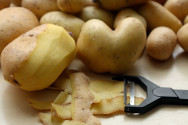 5 surprising ways to use potatoes
2023.09.04.
The Potatoes have been present in Europe since the 16th century, and have held their own ever since. It is used by the beauty industry, children can make a "potato print" out of it, and its flower was used to decorate princely tables at the time. And now we show you 5 surprising but useful alternatives when it comes to the use of potatoes.
professional - as usual, thank you.
D. Primož
Great company from start to finish! Great products, competitive prices and fantastic service! Order dispatched next day from ordering, quick delivery! Customer service reply straight away to my email about delivery times and invoice! Very happy with Gammo.eu! Will definitely order again! Thank you all!
M. Georgi
I received my order so quickly! Customer service is excellent.
C. Amy
Great website, easy to navigate and fast delivery of order
N. Karen
DO YOU HAVE ANY QUESTIONS?